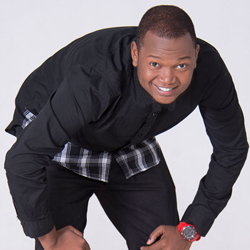 Dulla (Abdallah Ambua) is the presenter of "Planet Bongo" for both East Africa Radio and East Africa Television (EATV).
With experience spanning over 4 years, Dulla's area of expertise lies in entertainment particularly in 'Bongo Flava' music.
A major highlight of his career so far was being chosen to be part of the Kilimanjaro Music Awards Academy, which recognises outstanding musicians.
He has recieved numerous awards including Best TV Presenter.
Dulla is also an actor who's been featured in four movies, with more in the pipeline. Dulla firmly believes in the potential of 'Bongo Flava' and 'Bongo Movies'.
As a result, he's dedicated himself to ensuring that these two industries can gain recognition in the world entertainment industry.